Testimonials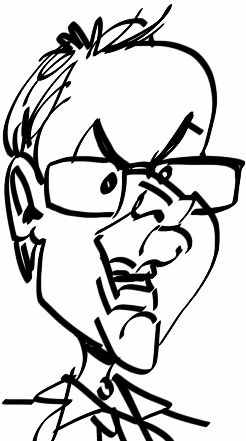 Below are a selection of testimonials of Urbano members, associates and event attendees, accompanied by a rather frightening caricature of me at an Urbano networking event by the brilliant Simon Ellinas.
For about Simon and his work, click here: Simon Ellinas











Testimonials about Urbano Network


"I promised you (rather a long time ago) that I would provide a testimonial for the Urbano Network.
The Urbano Network is not just another network with the same unimaginative, repetitive formula where members invest time and money in ever diminishing hope, without results. It is a network that works not simply in terms of creating a vibrant, positive and fun atmosphere at varied and well-organised events but because it stimulates the referral of work and produces results. As a small corporate and commercial law firm, we have been introduced to a huge range of high quality professional and other business contacts and clients, which has directly resulted in a very significant level of work for our firm, producing fees in excess of £100,000! Urbano Network is simply one of the best investments which we have ever made.
Truly, you have created a networking phenomenon that does not feel remotely like work - keep it up!"
Patrick Orr, Orr Litchfield: Profile

"Mark's marketing does wonders for your business and creates a loyal brand of customer. The vast majority of students who joined my language classes through my Urbano Notices have returned again and again, and brought friends and relatives along, too. (AND) Just to say thank you for the meeting this morning .The speaker was excellent, the people were all interesting, and interested, and I very much appreciate your putting the attendee list online so shortly after - very helpful. " Susan Rich, Languages 2000
" I just want to share an example of how Urbano has helped me. Through an Urbano member I met at an Urbano networking breakfast event, I got the opportunity to do a Q & A session about my forthcoming book on "Employee Risk Management" at a business book club. That directly led to an invitation to be a panellist at a symposium in London this September on Cybercrime. Networking through Urbano can certainly move - and help promote your business - in mysterious ways!" Helen Rideout, Savvy HR
"I was delighted to accept a recent invitation to speak at an Urbano People event in London. Sharing with 60 professionals – from right across the HR and other sectors – the dramatic positive impact a consistent focus on engagement and enablement can have on business results, and the hard work involved, was enjoyable and rewarding.
The Urbano People audience were diverse and knowledgeable. The questions and networking discussions following my presentation introduced new ideas and observations based on the group's wide experience. I think the Urbano Network is great - both for speakers and attendees - as a forum where professionals can share ideas and thinking and as a place to do - and enjoy doing - business."
Ella Bennett, HR Director - Fujitsu UK & Ireland
"Brilliant Build networking breakfast event yesterday, I found Oliver Schneider's presentation really interesting and the meeting with Derry Long and Jessica Gray very useful. Many thanks. I would now like to join!" Judith Locke, Karonia
" It was a great event, I'll definitely be coming along again and keen to visit your media events. I made so many more useful contacts and leads from yesterday evening than I have had from most other networking groups I have attended in the last year. You have a great thing going there. Very glad I joined up." Rhowena MacCuish, Photographer
"Many thanks for yesterday's Networking Masterclass. It was such an interesting and informative afternoon session. And you then created a friendly, lively atmosphere for the networking at Bloomsbury House that followed. My first networking event and I really enjoyed it!" Alexandra House, Whitechapel Gallery
"It was great to speak to an audience who were both knowledgable about and engaged in the subject, unafraid to ask questions and keen to pick up the threads afterwards. Convivial and focused networking in a relaxed setting." Graham Snowdon, Editor of The Guardian's Work Supplement

It was good to meet you at your event yesterday. I just wanted to say how much I enjoyed the evening. You have managed to create a great atmosphere and ethos that makes networking a relaxed, natural and enjoyable process. I'll be back. Thank you." Steve Reckless, Jump Ltd
"Great to meet you and the Urbano members - such a fab evening and a great showcase for the venue. Thanks a million for the email and data you sent this morning!" Samantha Kershaw, Bloomsbury House
"I do a lot of speaking, but two things stood out about Urbano Network and the Urbano Finance networking strand I addresses. Firstly, the audience was very high quality business people and investors and the quality of the questions that followed was apparent.
Secondly, Mark did a great job of warming the audience up for my presentation, setting out my talk in terms of the wider business context. It has already certainly led to some business and valuable connections for me." Simon Dixon, CEO,Bank To The Future

"At Westgate Communications, we have used a number of different networking channels - Urbano Network is undoubtedly one of the most effective. Urbano events always have great speakers who cover relevant content so you will always learn something new. The events calendar itself is incredibly varied (the networking lunches are particularly good) as well as taking place in top London venues.
You can always be guaranteed of meeting some really interesting people and having conversations that will both give you new commercial insights and help you grow your business. I consider our membership of Urbano an extremely worthwhile investment." Helen Westgate, Westgate Communications
"Just come back from a great seminar at The Army and Navy Club given by Mark Herring on the dark art of networking. I got a couple of really useful takeaways Networking is an ongoing thread which takes people from contacts ~ connections ~ relationships ~ opportunities, so don't see when you met someone for the first time. When you follow up after meeting someone be CRAPP (the last P is mine Mark) C - Concise (Brief) R - Relevant (link to what you were talking about) A - Appropriate P - Personal And my P - Punctual (follow up when you said you were going to)" Wil Suthers.

"I'm very happy to renew my membership. It has proved useful over the last year and it has enabled me to expand my network of experts. The events I have attended have been well supported and enjoyable and the event groups are a great feature." Ian Perry, Remedy For Business

"Mark invited me to talk at an Urbano event and I am delighted that I agreed to do so. The edgy Hoxton venue was jam packed with like-minded dynamic individuals networking, sharing ideas and fostering mutually beneficial business opportunities. I met some incredibly interesting people from a number of diverse sectors who I very much look forward to working with in the future." Lucinda Bruce-Gardyne, CEO, Genius Foods

"Thanks very much for organising today's event and for allowing me to come along. I thought you'd assembled a good crowd of people and thoroughly enjoyed meeting them. I've been a bit sceptical of organised networking events in the past, but was pleasantly surprised. I also felt that your introductory remarks about the need for this business education to complement purely professional skills were very much in line with my own philosophy. Definitely giving full membership serious consideration." Adam Wilson, ActionCoach (and now Urbano member)
" I have a lot of time for Urbano, especially the Urbano Build network. They have a philosophy of "exchanging value" that I find rather empowering. Urbano, run by the redoubtable Mark Herring, offers a safe facilitating vehicle brokering for opportunities for smaller companies to get involved, both with each other, and with larger partners. They champion the cause of the smaller, quality suppliers, especially in areas such as BIM, design and new technologies.

I always learn something of real value when I'm with them. The companies Urbano brings together are real entrepreneurs - a creative and energising lot to be with."
Jackie Sadek, CEO of UK Regeneration


Urbano Communities
Urbano Network on Twitter