Urbano Build & UWACTE Speaker Information
Industry-leading speakers addressing contemporary issues to a knowledgeable pan-sector audience.
Our Urbano Build and Urbano Women in Architecture, Construction, Tech & Engineering (UWACTE) speaker programme has a proud track record of exploring and championing issues affecting the sector before they become mainstream, from a stand-point of finding opportunities for smaller firms to work with larger ones. Topics have included diversity, sustainability, new technology such as BIM and IOT/M2M, accessibility, environmental, BREAAM, supply chain transparency, and workplace wellbeing.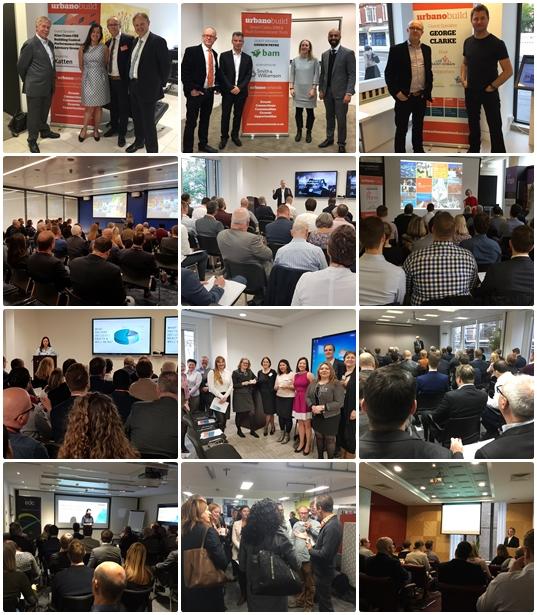 Our approach means we often look at a topic in one sector – such as Blockchain as a wallet for Bitcoin, or VR in Media – before they jump across to offer uses in Build.
In 2018, we organised specific Build Community speaker events on workspace design, VR/AR, Blockchain, WELL Building Standard, BIM & sustainability. 90% of our speakers were also women.
Our 2019 events looked at modular construction (George Clarke), diversity in engineering, workplace wellbeing & BIM/ISO regulations alongside sustainability & materials, WELL Building, procurement, and company culture.
Into 2020 we continue the theme of Zero Carbon.
Urbano offers our speakers and the organisations they represent a great opportunity to connect with an Urbano audience, but also promote their own brand across our database of 75,000 subscribers. Those that accept also enjoy both the event and the chance to develop their own connections during and after the event.
For more information click here to download our Urbano Build & UWACTE Speaker Information Pack
CONTACT
Mark Herring
Founder & MD
020 7205 2215
Urbano Communities
Urbano Network on Twitter