Urbano Networking - London Venue Collection 2018
Urbano's Venue Collection launches in March 2018.
Our pocket sized directory includes a half page feature with colour photo for each of our 2018 Host Venue Partners. It will be distributed to every attendee at our 60+ events and to event organisers throughout the year.
To see a list of confirmed Host Partners for 2018, please click here:
Venue Collection from Urbano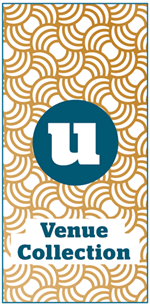 Venues Listed will include:
Bars
Restaurants
Co-Working Spaces Conference Centres
Caterers
Event Spaces
Galleries
Museums
Private Members Clubs
__________________________________________________________________________
** DEADLINE TO CONFIRM LISTING **

To guarantee your venue in included, confirm your choice of event with us by TUESDAY 20TH FEBRUARY 5PM. February 2018. Email Caroline for details.
__________________________________________________________________________
HERE'S HOW TO GET YOUR VENUE LISTED
Become an Urbano Host Venue Partner by hosting one networking event in 2018 from the following:
Networking Lunch: 12:30 - 14:30
Host provides a buffet lunch + 1 complimentary drink pp
(wine/soft drink). Max 36 attendees.
Networking Evening: 18:00 - 20:30
Host provides 2 drinks pp (wine/beer/soft drink) + canapes.
Max 65 attendees.
Networking Speaker Breakfast: 08:00 - 10:30
Host provides venue space, AV and continental breakfast.
Capacity: 40/50/60 depending on topic and venue capacity.
Networking & Viewings: 08:00 - 10:30 OR 18:00 - 20:30
Exclusively for galleries and museums.
Capacity and format tbc with host venue.
Masterclasses & Workshops (3hrs)
Host provides meeting space, AV, refreshments.
Capacity: 12-20 max.
Host Venue Partner benefits include free annual membership, free events, and facility to promote your own showcases to 5,000+ subscribers throughout the year.
FOR MORE DETAILS & TO CONFIRM YOUR LISTING CONTACT:

Caroline Brock
Director of Events & Partnerships
Tel: 020 7205 2215
Email: caroline@urbanonetwork.co.uk
Follow: @urbanonetwork #UrbanoHostVenues
Urbano Communities
Urbano Network on Twitter