Urbano's Venue Collection Handbook 2020
Urbano's Venue Collection Handbook 2020
Since 2011, Urbano has been connecting our Host Partner Venues


Our pocket sized directory includes a half page feature with colour photo for each of our 2020 Host Venue Partners. It is distributed to every attendee at our 60+ events and to event organisers throughout the year.
**For hosting options & availability see further below**
Click here to view the URBANO VENUE COLLECTION HANDBOOK 2020
Click here to view the Venue Collection Handbook (2018/19)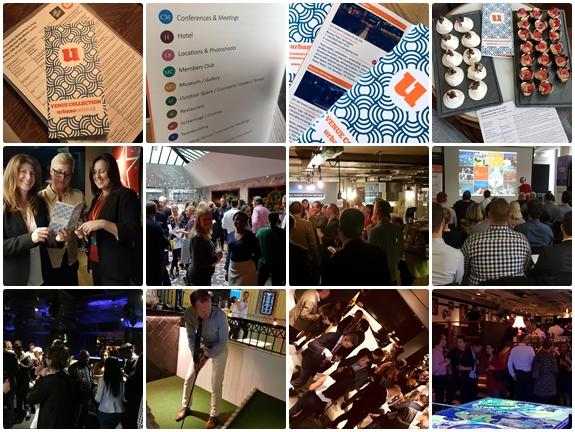 FREQUENTLY ASKED QUESTIONS
Why have we produced the Venue Collection Handbook?
Within Urbano's membership network of over 5,000 members and associates, we wanted to find a way to better connect restaurants, hotels, bars, conference spaces, museums, galleries and other spaces that we are proud to partner with, to those within our member and associate companies who are part of the network and their event planners. We believe we have found the perfect solution to make sure our preferred venues are represented at every weekly Urbano event and beyond.
How do I get my venue featured?
To get listed in the handbook and confirmed as an Urbano Host Venue Partner, all you need to do is host ONE networking event in 2019. The networking event acts as the perfect showcase for your venue with the bonus of receiving a number of benefits throughout the year. Hosting options provided below.
Event Hosting Options
Networking Lunch: 12:30 - 14:30 - Host provides a buffet lunch + 1 complimentary drink pp (wine/soft drink). Max 38 attendees (average 26-32)*
Networking Evening: 18:00 - 20:00 - Host provides 2 drinks pp (wine/beer/soft drink) + canapes. Max 75 attendees (average 50-60).
Networking Breakfast: 08:30 - 10:30 - Host provides venue space, AV and continental breakfast or seated dining depending on format. Max 38 attendees (average 26-32)*

Networking Speaker breakfast
08:30 - 10:30 - Host provides venue space, AV and continental breakfast or seated dining depending on format. (Average attendees 35-55)*
Networking Tour/Viewings: 08:00 - 10:30 OR 18:00 - 20:00 - Exclusively for galleries and museums. Capacity and format tbc with venue and flexibility on timings.
* We work with invididual venues to match calendar, space availability, capacity and preferred audience
**AVAILABILITY**
We have 6 places left for hosting. 1 networking evening, 5 networking lunches or private breakfast dining options.
What areas do you cover?
Central London locations only including City of London, Canary Wharf, Clerkenwell, Farringdon, Covent Garden, Soho, Euston, King's Cross, Fitzrovia, Marylebone, Bloomsbury, Holborn, Hoxton, Shoreditch, Mayfair, St James's, Westminster and Chelsea & Kensington.
What if I am a caterer?
For caterers who supply a roster of preferred venues, we will provide a Handbook list for both parties and membership.
Is there a deadline?
Yes. To guarantee your venue gets listed in the 2019 Handbook email Caroline by Friday 15th February 2019. Host Venue Partner status is on a venue-by-venue basis and we operate on a first come, first confirmed basis.
Is there a cost to be featured in the Venue Collections Handbook?
No. This is an exclusive benefit of becoming an Urbano Host Venue Partner.
Is there a cost to for Host Venue Partner Membership?
No. Host Venue Partners receive Annual Company Membership for you and your venue events team. This includes access to our networking events (including member-only receptions and hospitality evenings), free venue enquiries passed on directly to you by email, facility to upload and promote your own events to our 5,000+ members (tastings, wedding open days, cocktail/whisky/wine masterclasses, etc.), and Christmas Promotions sent to our 75,000+ database.
Urbano Host Membership allows those venues and their teams to engage with businesses on the Urbano system, so we can introduce our venues event teams to prospects on their doorsteps when they are running promotions, or help when they need legal or HR advice.
Note: Urbano is a closed network to venues which means ONLY representatives of Host Venue Partners can book and attend our networking events in 2019.
FOR MORE DETAILS & TO CONFIRM YOUR LISTING CONTACT:
Caroline Brock
Director of Events & Partnerships
Tel: 020 7205 2215


or sent a message through our Contact Submission Form
Follow: @urbanonetwork #UrbanoHostVenues #UrbanoVenueCollectionHandbook
Urbano Communities
Urbano Network on Twitter